Looking for the Best Office Storage for your Home office?
Read this review before you click on sites written by people who have not tried them.
It's easy to make a mistake and get a bookcase or storage shelf that will leave you wishing you had purchased something better.
Choose the right office storage for your home office
As a remote worker, it's essential for you to maintain an organized workspace in your home office to cut down on wasted time as well as create a productive atmosphere.
You can start by purchasing some great storage products!
Rules to remember
What you do depends a lot on the amount of space you space available to you.
If you have a small space and need home office storage, you need to look for more compact organizers.
If you have enough space and like to give your room more modern or classy look, there are some great options for you too.
We have reviewed best office organizers for different needs and situations.
No time to read the whole post? Here are our top 3 picks after our extensive research!
This post contatins affliliate links. If you click on one of these links and then make a purchase from the linked advertiser, I'll make a commission at no extra cost to you. Click Here to read my Privacy Policy and Affiliate Disclosure.
1- Office storage cabinet – Winsome Halifax Storage Organization
The Winsome Halifax Storage Organization comes with five large drawers to store all types of essentials for your work. It's made of composite wood, a material that makes it durable and heavy.
This office storage also includes locking casters to give you the option of making it a stationary or mobile furniture piece. It fit under standard height desk (26inch). Assembly is very easy. The instructions are drawn in images. It takes about 30 to 40 minutes putting it together.
Pros:
Affordable for many users
Decent material quality for the price
Great for organizing documents and accessories
Cons:
Assembly is required, which can be harder for some users than others
It is heavy
2. Office organizer – SimpleHouseware Mesh Desk Organizer
The SimpleHouseware Mesh Desk Organizer comes with a double tray, five upright sections, and a slider drawer for storing letters, desk supplies, and files. Its mesh design exudes a stylish appearance.
This desk organizer's compartments make it versatile. Very compact and spacious at the same time.
Pros:
No tools needed to assemble it
Rubber bottoms prevent slipping
Space-saving
Cons:
Structure can be bit flimsy
3. Freestanding cabinet – Berenice 4 Shelf Storage Cabinet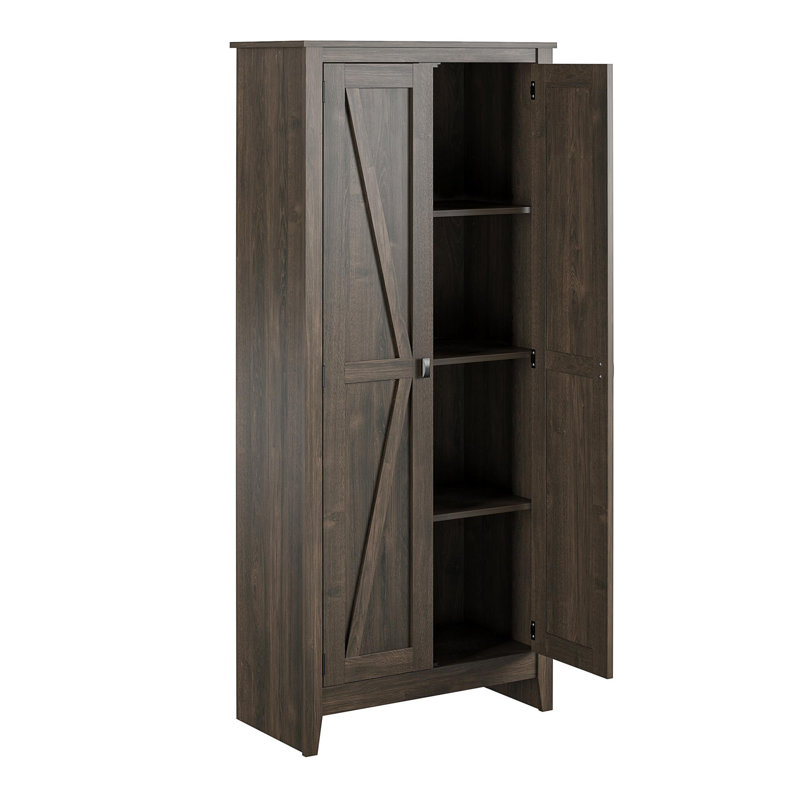 The Berenice 4 Shelf Storage Cabinet includes two adjustable shelves that accommodate objects of various sizes. This storage cabinet is constructed with barn door details, a feature that radiates a country style.
This free standing cabinets is perfect if you need a lot of storage. When closet doors are closed, it looks very classy and beautiful.
Pros:
Heavy and Sturdy
Very spacious and classy looking
Easy assembly
Cons:
Door panels can come loose
4. Desk Corner Organizer – Safco Products Onyx Mesh Corner Organizer
The Safco Products Onyx Mesh Corner Organizer has four center shelves you can use to store notepads, calculators, tape dispensers, and other office supplies. Additionally, this organizer includes two outer sections for placing notebooks, folders, and books.
This corner desk organizer allows you to place it at the corner of your desk, which saves lots of space.
Pros:
Strong steel construction
Long-lasting quality
Cons:
5. Book shelf – Catalaya 2 Door Storage Cabinet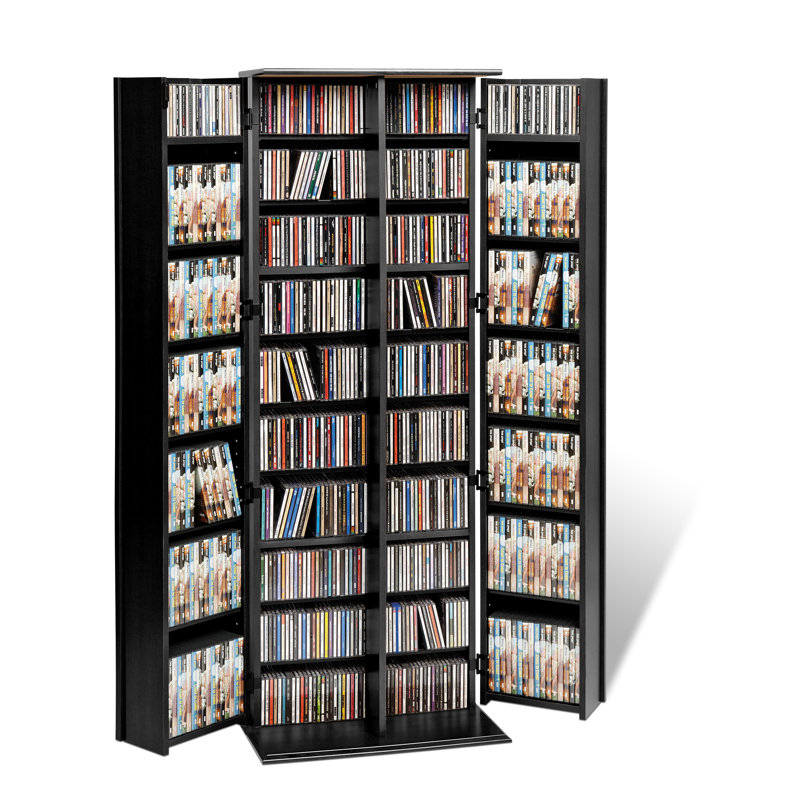 The Catalaya 2 Door Storage Cabinet contains 34 interior shelves, which provides ample space for you to store multimedia items like CDs, DVDs, and Blu-Rays. Its doors include two keys for added security.
This cabinet's laminated composite wood construction makes it strong and long-lasting. Very sturdy and attractive looking bookshelf for your home office.
Pros:
Adjustable internal shelves
Easy to clean and maintain
Contemporary and simple appearance
Cons:
Doors don't remain closed until you lock both sides
Need to be secured to a wall to prevent falling over
6. Modern bookshelf – Barnwood Swindell Etagare Bookcase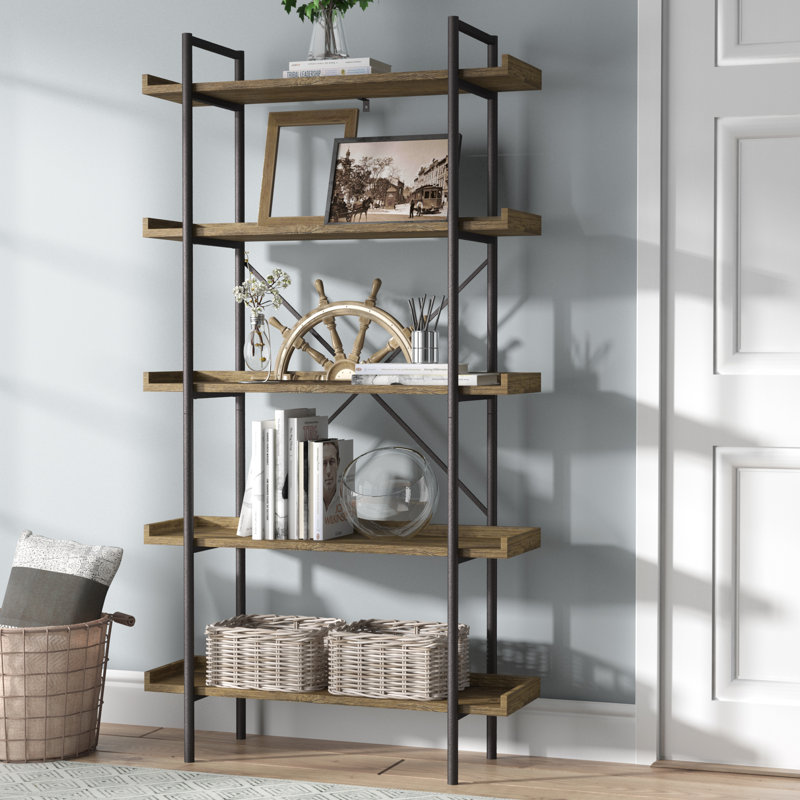 The Barnwood Swindell Etagare Bookcase comes with five shelves you can use to display your favorite books, collectibles, and photos. This bookcase's metal frame contains an X-shaped back, which gives it a unique touch.
The wood grain finish on its shelves exhibits an agrestic and trendy look. This standing shelf gives a modern and minimalist look to your home office.
Pros:
Decent quality
Easy assembly
Modern looking bookshelf
Cons:
Posts can get unstable over time
7. Desktop bookshelf (Tabletop Bookshelf)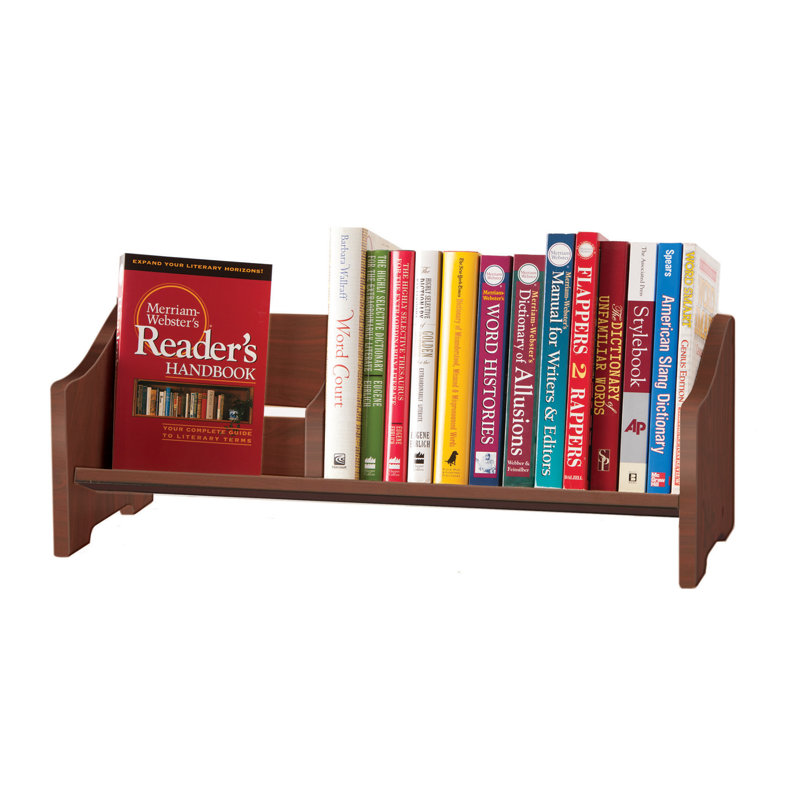 The Earp Tabletop 8.5'' Bookshelf lets you easily access your favorite books from a shelf or table. Its birch plywood construction gives it long-lasting quality.
This bookshelf comes with a bookstop that you can adjust to suit your needs.
Pros:
Easy to clean and assemble
Scratch/stain resistant coating
Good solid construction
8. Best Cube Bookcase – Jovanni Cube Bookcase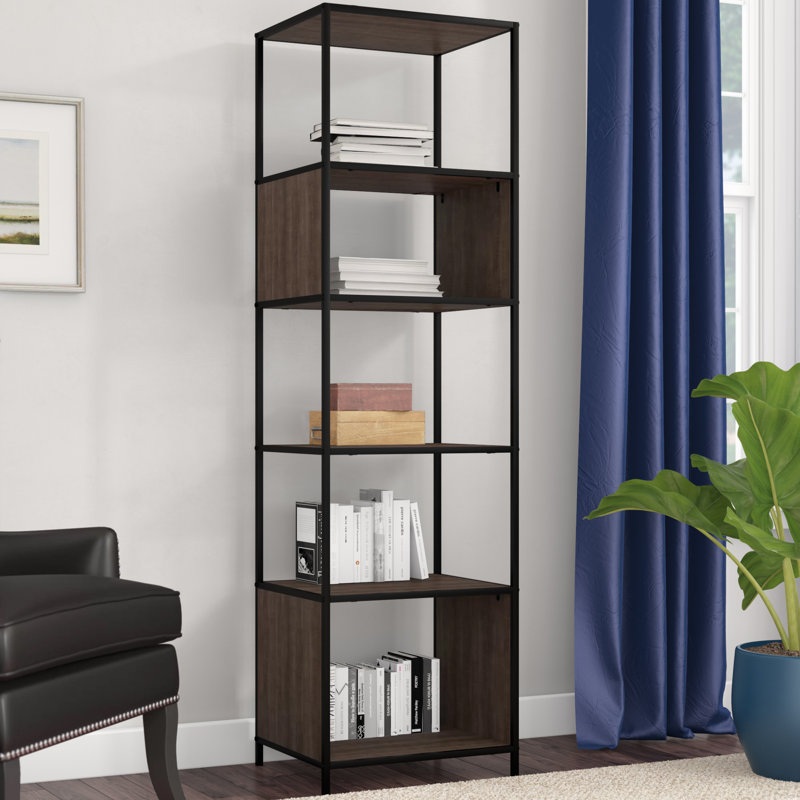 The Jovanni Cube Bookcase is a five-shelf media tower that enables you to show off treasured belongings like favorite books and trinkets. Its metal frame helps it maintain a sturdy foundation.
This bookcase's open-air shelves give off an eye-catching, modern vibe. It is inspired by the industrial-chic trend look.
Pros:
Sturdy base
Tall shelves
Can change the look of bookshelf based on wood covering
Cons:
9. desk with bookshelf – Studdard Desk with Hutch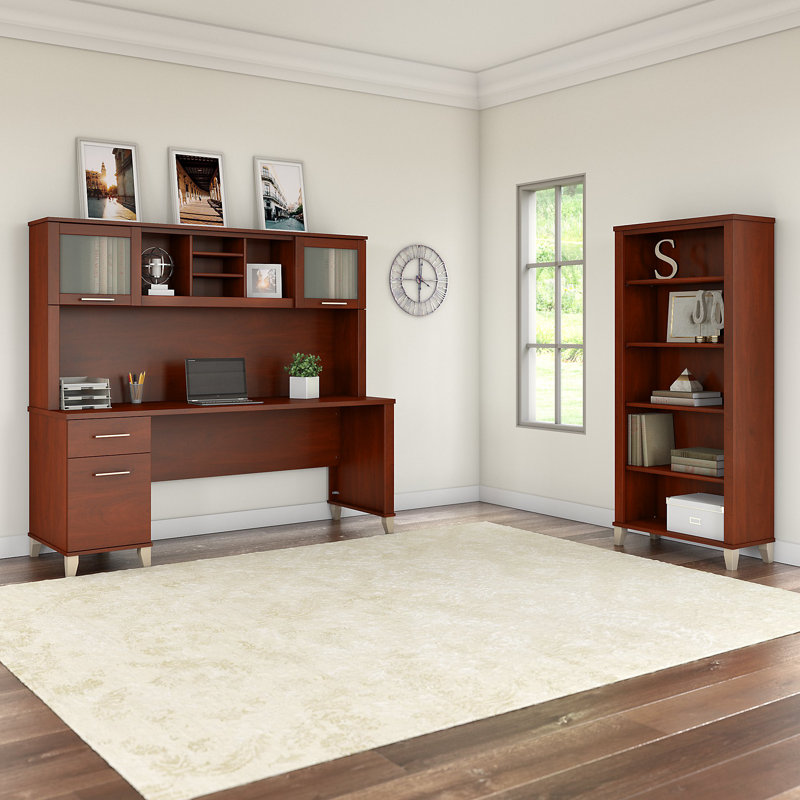 The Studdard Desk with Hutch offers plenty of space for laying out your computer, paperwork, and other work amenities. The desk has two drawers: one is for office supplies and the other is for documents.
This set also comes with a five-shelf bookcase for extra storage. This bookshelf – desk combo great for small tight places.
Pros:
Drawers have full-extension ball-bearing slides
Glass doors and adjustable shelves
Contemporary appearance
Very sturdy