Did you know that your chair is the most important piece of your home office?
Why is that?
Because it's what you come in contact with the most! Think about it.
People do not realize that a good chair can literally make or break your body and your ability to get things done. We believe it's the product you should spend the most money on just because it is so important.
Pay more for a good chair but don't overpay
A solid, comfortable, and often times stylish office chair is a must. Many of us spend countless hours sitting behind a desk, and good chair can be a game changer for how our bodies feel at the end of a work day.
With so many options on the market, it can be tough to decide what is best suited for your needs, wants, and pocket book. In this article, you will find the review of ten home office chairs to help you make the best choice to fit your work and lifestyle.
Best Ergonomic Office Chair: The Herrman Miller Aeron Chair
This is our most recommended chair for people who want an office quality chair that they can sit in all day. With more than 20 years under its belt, this iconic chair has stood the test of design time.
Ergonomic
This is one of the chairs that invented ergonomics. It supports your body properly and helps align you for good posture.
Why it is Herman Miller
This chair is designed based on the science of sitting. Made of high quality materials, a cross performance design that incorporates a wide variety of activities and postures, and available in three sizes to fit any body shape and size, it provides the ultimate in ergonomic support and comfort.Herman Miller specializes in the design of office furniture and chairs. They've been in the business long enough to know what people want and what works best.
Main Use
If you are looking for an all-around good office chair, the Aeron from Herman Miller is your best bet.
It Helps with Posture
With its PostureFit SL backrest and adjustable lumbar support pads, the Aeron supports the spine, encourages a natural forward tilt of the pelvis, and stabilizes the base of the spine.
Durable
The Herrman Miller Aeron is also extremely durable. There are people that have been using these chairs for 20 years with no problems.
Expensive
Unfortunately, these chairs are very expensive if you buy them new.
Buy Second Hand for the Ultimate Deal
The great thing about these chairs is that there is a strong second-hand market for them. We recommend searching for them on Craigslist, Facebook Marketplace, OfferUp or even LetGo. I got one for $200 back in 2014.
Pros:
Comfortable and ergonomic
Breathable mesh lining
Durable
high quality
made in USA
intuitive adjustability
Cons:
Expensive!
No neck support
Rating: 5 out of 5
Summary: In review we think this is the ultimate office chair that will last you decades if you are willing to invest in it or if you can find one used for a decent price.
Respawn 110 Racing Style Gaming Chair
This chair marries luxury with comfort, making it perfect for gaming or use in the home office.
Used Mainly by Gamers
If you're in to gaming, then this might be the chair for you. The attractive design, has many features making it possible for consecutive hours of use.
Comfortable
The chair features such things as a reclining headrest and footrest, a headrest pillow, lumbar support, and adequate padding.
Durable
Made of bonded leather and solid stitching, the chair is soft and easy to clean. Not to mention it is sturdy, as well.
Pros:
-Nice price point
-Roomy
-Reclining headrest and footrest are nice features
Cons:
-Arms can get wobbly
-Material not very breathable
Rating: 4.1 out of 5 stars
Summary: This is a decent chair at a nice price.
Tempur-Pedic TP 7000 High Back Office Chair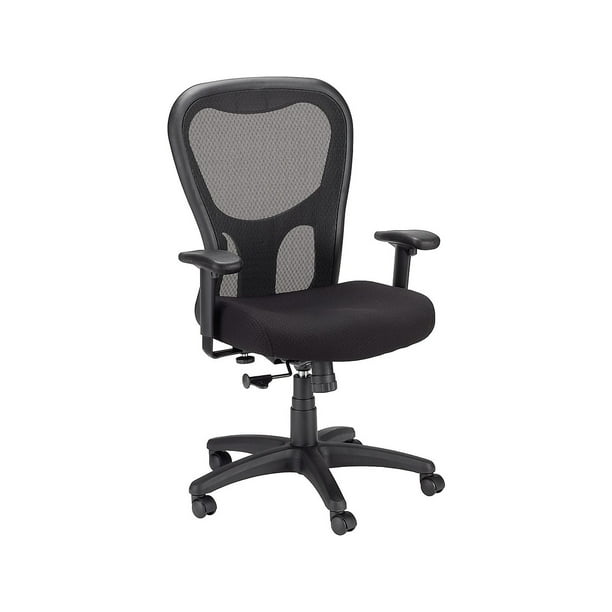 If you sit for long hours at your job, then this is the chair for you.
Helps with Posture
Featuring a high back with lumbar support, this chair helps to relieve and prevent back pain, while at the same time keeping your posture in check.
Comfortable for Long Periods of Sitting
The seat cushion, made from Tempur-Pedic foam, helps you to distribute your body weight more evenly to relieve pressure, thereby reducing pain.
Adjustable Options
One size does not generally fit all. That is why this chair has adjustable features such as seat tilt, back height, and height and width of the arms on the chair, so it can be set up perfectly for you.
Pros:
-Comfortable
-Durable
-Good Value
-Adjustable
Cons:
-Takes some getting used to with the seat and adjustability
Rating: 4.7 out of 5 stars
Summary: This is a very comfortable and supportive chair if you are someone who sits for long hours at home or at work.
3. Respawn 900 Racing Style Gaming Recliner
Need a versatile chair that can be used for gaming, movie watching, and more? Then this might be a good option for you.
Why Use a Recliner
Reclining can provide added comfort and relaxation during long and/or intense gaming sessions.
Who Are the Main Users/Potential Buyer
This chair is not necessarily just for gamers. It's a great chair for home movie theaters, and teenagers love it too.
Useful Elements
This chair has some unique features such as a cup holder, a pouch for controls, a headrest pillow, and segmented padding for comfort. The chair and footrest are all one piece, which eliminates gaps for wires and cords to get tangled.
Adjustable Features
Set on a 360 degree swivel base, the chair can recline up to 135 degrees. The reclining back and footrest have the ability to move independently of one another.
Pros:
-Comfortable
-Various reclining positions
-Attractive design
Cons:
-Inexpensive material
-No lumbar support
Rating: 4.4 out of 5 stars
Summary: If you are looking for a reliable chair for gaming or moving watching, this is a good choice.
OFM Essentials Collection Racing Style SofThread Leather High Back Office Chair
Do you want luxury? Do you want comfort? Why not both! You can find it in this chair.
Adjustable Options
Set on a 360 degree swivel base, this reclining chair has an adjustable seat height. And if that's not enough, it also includes a tilt tension to control how easily and quickly you can recline.
Main Users
This chair is made for those of you who work long hours sitting behind a desk and a computer.
Comfort with Durability
With a lifetime warranty, this chair showcases padding that is not only segmented, but ultra-plush, as well. The breathable material, lumbar cushion, and padding on the headrest and arms provides ultimate comfort.
Pros:
-Very comfortable
-Nice Design
-Good price point
Cons:
-Made of imitation leather
Rating: 4.2 out of 5 stars
Summary: Very comfortable, well-built chair at a nice price.
Sleekform Kneeling Chair
This chair is unique in its versatility.
Main Buyers
If you are someone who is prone to pain from long periods of sitting, then the kneeling chair might be the right fit for you.
How it helps
When sitting on this chair, it naturally opens up the pelvis in a forward motion, encouraging upright posture. This engages the core muscles, and helps to take pressure off the spine, back, neck, and shoulders.
Adjustable Options
You can manually adjust the chair's height anywhere from 21 to 28 inches, and seat angle from 97 to 127 degrees. Also, you can adjust the way you sit on this chair by shifting weight on or off your shins, repositioning the knees, or even sitting on the chair backwards.
Pros:
-Rolling/caster wheels
-Sturdy
-Good cushioning
-Not outrageously priced
Cons:
-Flat seat
-Made more for people of average height
Rating: 4 out of 5 stars
Summary: For the money, it adequately helps to relieve back, neck, and shoulder pain.
Vivora Luno Sitting Ball Chair
If you are looking for a multi-functional chair, look no further. Not only can the Vivora Luno ball chair be used in the office, but it can also be used as a fitness tool and/or ottoman.
Best Suited For
This multi-purpose chair is designed to provide relief from back pain in both adults and children. As an added bonus, it can double as a yoga ball for the fitness gurus or a birthing ball for the mom to be.
How it helps
Because of its spherical shape, the Vivora Luno promotes an upright position by engaging the legs and core muscles, automatically improving posture when sitting on it. This unique chair also allows for you to move around on it which helps to keep the muscles and joints loose and flexible.
Adjustable Options
This ball chair that naturally adjusts to your movements comes in two sizes to accommodate either desk height or your own physical height.
How and When to Use it
Besides being a great desk chair, the Vivora Luno can also be used in exercise activities such as yoga or balance training. It also makes a perfect birthing ball for an expecting mother.
Pros:
-Durable fabric cover
-Helps with back pain
-Comfortable
-Looks nice
Cons:
-Sizing for desk height may be off
-Some fabric covers might be uncomfortable
Rating: 4.4 out of 5 stars
Summary: A durable chair or exercise ball that does what it is designed to do.
Jobri BetterPosture Saddle Chair
This unique chair, designed for good posture and overall well-being, aids health and wellness through support to the spine.
Main Buyers
While popular with dentists and dental hygienists, this chair is also a good fit if you want to have better posture, increased circulation, and reduce stress on the body.
How it helps
With its saddle shaped seat, this chair allows for the legs to be in a more neutral position lessening the pressure that is often placed on the backs of the legs in a more traditional chair, providing better comfort and circulation. This chair also fosters better posture, stronger core muscles and a stronger back.
Adjustable Options
The height of the seat can be adjusted anywhere between 21 to 28 inches, along with adjustability of the seat tilt, if needed.
Pros:
-Good value
-Sturdy
-Helps with back pain
Cons:
-Takes some getting used to
-Could use extra padding on seat
Rating: 4.3 out of 5 stars
Summary: The Jobri saddle chair is well-built and helps reduce and relieve pain at a fair price.
CoreChair Active Sitting Ergonomic Office Chair
If you are someone who suffers from back pain while sitting, this chair might be a good option for you for back pain relief.
Why it is Called Active Sitting
This chair, that marries posture support and movement, is designed to realign the pelvis with the spine to create balance and reduce pain. Moving on this chair gently works the back muscles in a controlled way to reduce stiffness and help ease pain.
Adjustable Features
Available in two sizes depending on height, the CoreChair Active has a pivot point beneath your center of balance that allows for movement in all directions up to 14 degrees. It also has an adjustable resistance feature of five various settings so that you can tailor your movement level.
Main Users
This chair is meant for those with back pain, sciatica, or other forms of nerve pain.
How it helps
Along with promoting good posture, the pelvic support cushion aligns the spine and pelvis, as well as taking pressure off the sciatic nerve and sit bones to provide more comfort.
Pros:
-Comfortable
-Alleviates back pain
-Well made
Cons:
-Pricey
Rating: 5 out of 5 stars
Summary: A highly effective chair that eliminates back and nerve pain.
Seville Classics Airlift 360 Sit-Stand Chair
Made for children and adults, this sit-stand chair works in a variety of settings such as office use, home use, dorms, and more.
Who the Chair is best for
If you are someone who likes to move around and burn calories while working, studying, tinkering, etc., then this chair is the one for you.
How it helps with Posture
The half dome seat of this sit-stand chair is designed to correct poor posture and involve the core muscles.
What it can do
This creative chair can wobble up to 10 degrees in any direction, rock, and/or spin 360 degrees to burn calories and build your core and leg muscles. It is also has an adjustable height of 20 to 28 inches.
Pros:
-Sturdy
-Comfortable
-Nice Design
Cons:
-Might not roll well on some surfaces
Rating: 4.4 out of 5 stars
Summary: This is a good multi-functional chair to use in more than just an office setting.
There you have it. Ten home office chairs to get your search going. But, the list is not exhaustive. Maybe there's one we missed that you know of that would fit the bill. Or, maybe you have personal experience with one of these chairs. Leave a comment. We'd love to hear personal stories.